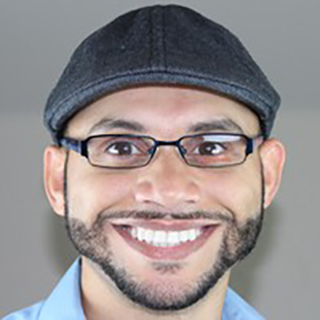 I became successful, studying programming from home and changed my life!

I want to introduce myself here now and give you some information so you can make a good decision even if is not joining CodingFaculty.com
My name is Edwin Diaz and I am the President / CEO of CodingFaculty.com and we have over 600,000 students in over 200 different countries all over the world.

Benefits of Joining:
24/7 support with your code
Download lectures to watch off-line
Certificates of Completion
We add courses all the time
Real Life Project based courses
Newest technologies
Career Path guide and counsel - We guide you all the way to getting a job or projects
We care about each of our students, why? Because we were also students
Lectures can be downloaded to watch off-line
Unique projects that will keep you having fun and learning
Interactive courses that won't bore you
Motivation to finish the courses (We motivate our students)
We create contests where students participate and can win prizes.
---
Programming Changed My Life
Programming has given me FREEDOM to do what I like whenever I want. I don't have to worry about money, being late for bills, or going to a 9 to 5 every morning. I don't tell you this to brag but to let you know that YOU can have the same things, HOW? By getting all my knowledge and the experiences I have put together in my courses here in this website.
After being successful for a couple years I came up with the idea to help others achieve their dreams of becoming Web and Software Engineers or as some people call it, Developer or Programmers; I like to call it Engineering :)
The Courses Here are Different
My courses are NOT regular courses, they have my SOUL in them. I have put all the information inside that have allowed me to live the life of my dreams. My courses have MOTIVATION to keep you going when it gets though and SUPPORT when you need it the most.
Get access to all courses https://codingfaculty.com/p/monthly-membership

Here is Some Proof
Here is a screenshot of some my recent reviews for the life changing course PHP for beginners - Become a Master that is responsible of changing the lives of thousands people. This course is for beginners wishing to become PHP developers.
Here is some PROOF that many people like my courses, and this just a couple of them, out of thousands of reviews that I have.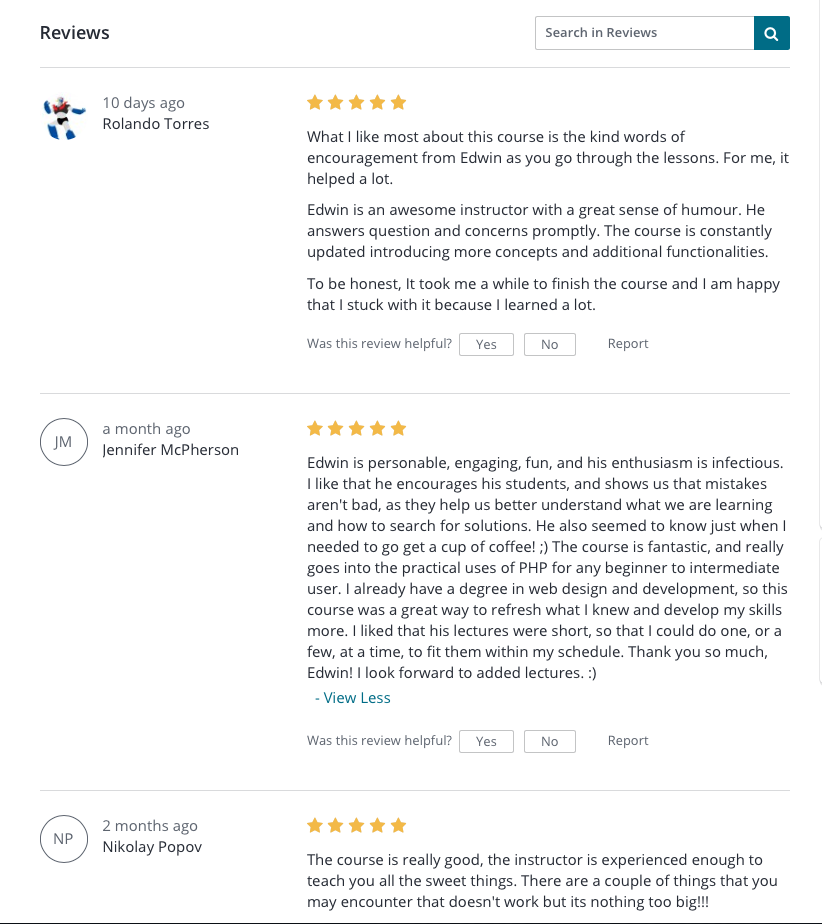 I am NOT Perfect!
Look I'm not perfect and will never be, some people don't like my approach and that is ok, because I know it works for most. I'm a straight forward person and I like my students to do their work and also finish their projects. Yes I will help you with problems but I won't do the work for you. There is a lot of demand for good developers but you need to study very hard to really be the best you can be in this NEW era of technology.
Companies are looking for Knowledgable Developers
The true is that most companies are looking for people with at least 1 to 2 years of experience. Now you might be thinking how in the world can somebody get a job in the beginning? Well, that is the HARD truth and a lot of people have to lie or work in side projects until they get a decent job which can take years, but it does NOT have to be this way for you and it won't be if you follow my advice.
I'm Successful if You Are Successful
I believe we all have a purpose in this earth and my job is help you achieve your dreams. I feel GREAT when one of my students sends me an email to let me know they got a job in programming. Sometimes when I'm not feeling at my best all I have to do is read those emails and reviews to remind myself that I make a difference.

My Promise to You
I will be there for you 100% all the way until you reach your goals. I will give you the tools, advice and support necessary for you to achieve your dreams. This is NOT a regular website where you take a course and you are forgotten. I am here for you and if I'm busy, I got the best people to help you.
I do care about YOU because when you decide to JOIN the membership program or any course; you are telling me that you trust me, and that you believe in me. I care about each and every one of my students because I was there once and know how hard it is to make it out there.
You got nothing to loose and Everything to gain
Here at the school we have a 30 day no questions asked refund policy, meaning you get your money back if you are not happy. If you join our monthly membership you can cancel anytime from your ADMIN PANEL. When you login you will see all your courses and settings.
Where to go from here?
Get access to all courses and support here https://codingfaculty.com/p/monthly-membership
PS: This is ME Edwin Diaz writing this, not somebody I hired. You can probably catch some grammar errors too :)